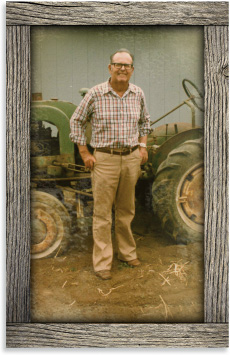 The Peixoto family began farming in the Pajaro Valley (California Central Coast) in the late 1800's and perfected conventional growing throughout the 1900's. Our farming story begins in the Pajaro Valley when Joseph "Jo" Peixoto (pronounced Peh-SHOTE) immigrated to California from the Azore Islands of Portugal at the turn of the century. Jo's youngest son, Francis, was born and raised in Watsonville, California, and spent his whole life around agriculture. Francis made his career working for a local fertilizer company who sold agricultural chemicals to local farmers.
Dick, one of 7 children, spent every free minute tagging along with his dad to learn all he could about farming. While peers were pursuing sports and other activities, Dick wanted to explore what made crops grow. Dick followed in his grandfather's footsteps and got serious about farming while still in high school.
As his passions for harvesting the riches of the soil grew and evolved, Dick made a committed decision to convert land to certified organic. Dick Peixoto and his extended family started packing organic vegetables with the Lakeside Organic Gardens label in 1996. By 2000 the total acreage farmed by Lakeside Organic Gardens was 100% organic. Today, our company is still family-owned and operated with more than 250 employees and approximately ten of those employees being family members.